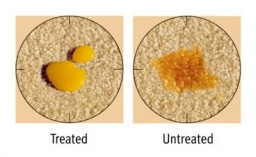 We can apply several types of carpet protectants including Scotchgard, Maxim and Teflon. We have protectants for upholstery as well. Protectors are very important in extending the life of your carpet or upholstery. They protect against acid-based stains, the type of stains that can permanently stain your nylon carpet, such as:
Colored fruit drinks
Soft drinks
Frozen fruit treats
Other colored foods
It revitalizes soil/stain protection on stain-resistant carpeting; it protects against dirt, dust, grime; it makes your vacuuming more efficient.
The protectors "seal" your carpeting or upholstery so the spills don't soak into the fibers, allowing them to be easily blotted up. Dirt particles don't cling, so vacuuming is easier and more efficient. This reduces the likelihood of a permanent stain. These protectants will protect against almost anything you can track in or eat.  All of our protectants are safe for pets and children. We will provide you with a Certificate of Application you can keep for your documentation to show that you are complying with the provisions of the manufacturer's warranty.
Let us help protect your new carpet from pet stains, worn-looking traffic areas, soils and spills.
Deodorizer
We offer numerous options for our customers when it comes to Deodorization. We have a wide variety of scents to apply to the carpet. We also offer enzyme-based deodorizers to digest the bacteria that cause the odors. Thermal Fogging and Ozone Bio-aerosols are used for smoke or other organic material odors. Call or email us for a more detailed list and the effectiveness for each type of deodorizer. Please note that removing the source of the odor is the number one step to successful odor removal.