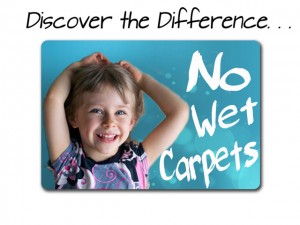 This is an ongoing debate in the carpet industry. The companies that promote truck mount hot water extraction or often referred to as "steam cleaning" claim that dry or low-moisture methods don't clean as deeply as wet cleaning.
Companies who use the new low-moisture or dry cleaning systems often point out the fact that hot water extraction, or steam cleaning, typically over wets the carpet, penetrates the padding and leaves a soapy, crusty residue.
The Big Problem With Steam Cleaning or Hot Water Extraction
If you think about it, if dirty water is removed from the carpet, but the carpet is left wet, isn't the moisture remaining in the carpet the exact same dirty water? Tests have proven that to remove the dirty water to an acceptable level with hot water extraction (or steam cleaning), the carpets would need to be thoroughly rinsed as many as 16 times.
Interestingly, a tactic some steam cleaners use in an attempt to prove that the previous steam cleaning company didn't do a good job is a demonstration of this fact. They simply go back over an area that has recently been cleaned and show the dirty filthy water that came out the carpet. "Are you serious? We just had this carpet cleaned…!" is the typical reaction from observers. This demonstration is especially common in commercial carpet cleaning but the result is the same for residential carpet. You can prove it to yourself by renting a rug doctor at your local grocery store and re-clean an area that was steam cleaned just a day or two before. You probably won't be happy with what you see.
In a national survey quizzing consumers about their most bothering issues when it comes to carpet cleaning, the overwhelming #1 complaint was that the carpets were left too wet and took way too long to dry. The #2 complaint was that spots and stains resurfaced after the carpet had finally dried.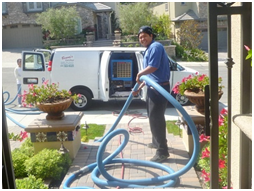 Most carpet cleaning companies are still trying to clean carpet the "old way", utilizing traditional steam cleaning (or hot water extraction).  You've seen them with the big van out front with hoses running across the yard and into the house. Steam Cleaning (actually it's really not steam – it's just hot water) is a 40 year-old process that can leave the carpets wet for many hours (or even days).
It is an old system that relies on high water pressure, high alkaline detergent and hot water to clean. This process easily forces water, chemicals and dirt through the base of the carpet into the pad and even onto the subfloor. The water and detergent is then vacuumed out of the carpet (only 60-80% actually comes out), but because the pad and subfloors are so wet, it takes a long time for the carpet to become totally dry. This can cause wicking issues (spots and stains rising up the carpet fibers through evaporation), mildew and mold, odor problems and quick re-soiling – not to mention a total inconvenience. No wonder there are so many consumer complaints!
Not Environmentally Friendly
Hot water extraction or steam cleaning is certainly not an eco-friendly process. The equipment used for wet carpet cleaning  is costly, heavy, noisy, high maintenance, large, complicated to use, burns a lot of fuel and puts out toxic exhaust fumes. It takes a lot of fuel to power the equipment and after cleaning, hot water cleaners have to find a place to legally dump the chemical laced dirty water – otherwise it ends right back in the city's water supply. Not a pleasant thought.
The Advantage of Dry Organic Carpet Cleaning
The carpet cleaning industry has come a long way in 40 years. With modern low moisture carpet cleaning systems, carpets can be left thoroughly clean and completely dry in 30 minutes or less; stains will not come back, and carpets will repel dirt after cleaning, allowing your carpets to stay cleaner much longer. The equipment is far less expensive, light weight, quiet, maintenance free, easy to use, easy to transport, easy to store, and there are no freezing issues. There is no fuel consumed or smelly toxic exhaust, and there is no chemical laced water to dump back into the city's water supply.
Dry (or low moisture) carpet cleaning systems also utilize eco-friendly green cleaning agents (chemical and residue  free). Think about it.  Would you prefer to be left with wet, gushy, icky carpet or totally dry, clean, soft and fresh carpet?
So which system is really the best?
More than anything else, it depends on the circumstances. For situations where there is water damage caused by leaking pipes, flooding, severe weather, improperly sealed windows, a leaking roof, overflowing sinks, improper drainage, as well as many other sources, truck mount hot water extraction is definitely what's called for. It's what we recommend 100% of the time for our customers that find themselves in this unfortunate situation.
But for routine residential as well as commercial carpet cleaning we feel dry organic carpet cleaning is the only way to go. Why? This system is eco-friendly, your carpet will be completely dry within minutes, and it does an AMAZING job of removing soils, spots and stains – even those left behind by the previous cleaner. We can't always put the "new" back into your carpet, but what we do is amazingly close.
Experience & Training Is The Key
Just like any other process or tool, the outcome depends not on not only the method but on the training, experience and knowledge of the technician using the cleaning method.
Rest assured that your carpet is in experienced and professional hands when you call Southern Dry Carpet Cleaning. You'll love it… We Guarantee It!