Southern Dry Carpet Cleaning – Referral Rewards Program
"Now you can earn FREE CASH or FREE CLEANING through Southern Dry
Carpet Cleaning's Referral Program!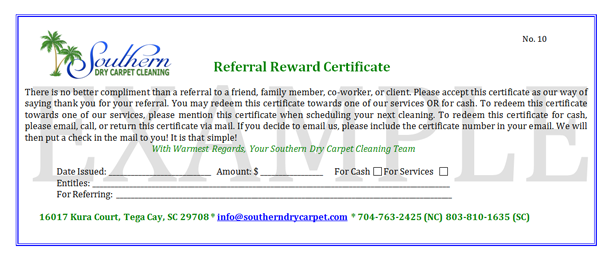 Southern Dry Carpet Cleaning strives to provide our customers with
an experience that you would want to share with others. The highest
compliment you can pay us is your referral. To express our appreciation
for putting your trust in us, we want to give something back to you. For
every new client you refer to us, we will reward you with a $10 referral
fee. When you refer someone, you will automatically receive a certificate
(valid for 2 years) that you may use for cash or any of our services. There
is no limit to how many certificates you can earn!
To redeem the certificate towards one of our services, please mention the certificate
when scheduling your next cleaning. To redeem the certificate for cash,
please email, call, or return the certificate via mail. We will then put a
check in the mail to you! It is that simple! If you're not able to redeem the
certificate for any reason, you can give it to your friends, family, neighbors
or clients.
With Warmest Regards,
Your Southern Dry Carpet Cleaning Team